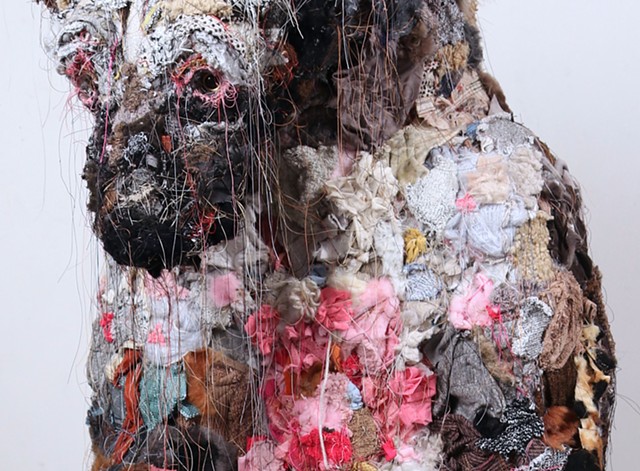 Artist Statement
I build animal forms with blankets, shirts, fake fur, rags, thread, plastic garbage bags, leather scraps and glue. These sculptures evoke playful, whimsical characters found in children's books, but my characters are something different: they are physically and psychologically vulnerable and seem like monstrously overgrown stuffed toys, wounded stray dogs or imaginary friends—misfits whose demeanors both invite and repel. Like mutant craft projects gone ominously awry, their surfaces suggest that the skins of these beings have been torn away through some violent process, exposing their soft insides.
In my drawings, too, I create images that carry associations with simplicity, innocence and play, but as if experienced in a fevered dream. In these works, severed cartoon heads drift, collide and overlap in space. These orphaned characters in search of a body attempt to reassemble themselves into a larger whole—but never quite manage the feat.
In both my sculptures and drawings, I explore the murky spaces intersecting empathy, fear, intimacy, humor, repulsion, the desire to touch or connect and the impulse to back away. Through these works, I hope to expose a complex and contradictory human presence that mirrors our own vulnerability.
Robb Putnam is originally from Seattle, WA. He received his BFA from the Maryland Institute, College of Art in Baltimore, MD and an MFA from Mills College in Oakland, CA. He currently resides and maintains an art studio in Oakland, CA.